Your Dog's Favorite Place To Be! (away from home)
Boarding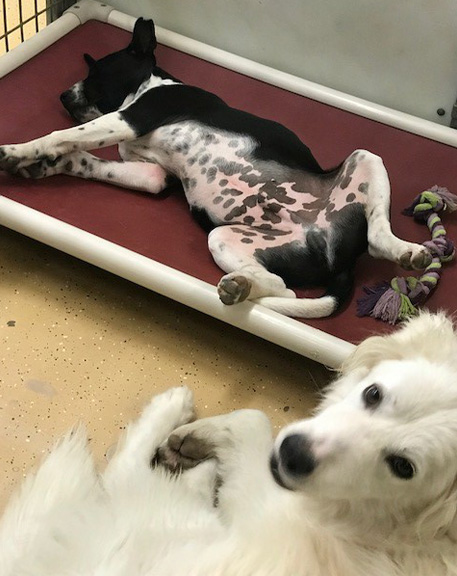 One of our founding goals is to have a stress free boarding experience for each dog that spends the night at Riverside Kennel. The first and foremost way to do this is to get the dogs outside of their room multiple times per day. This outside time allows for fresh air, potty break, socialization with other dogs in most cases, petting and love from our dog loving staff and exercise. Dogs do not like to defecate nor urinate where they eat and sleep and we rarely have messes to clean up inside the rooms. We are not one of those kennels where every room is full of urine and poop when we arrive each morning. We get the dogs outside at least 4 times per day. Small social dogs generally go out together, along with elderly, social, large dogs and large social dogs go out in group with larger dogs.
Of course, there are always dogs who must go out alone and/or only with their siblings and we cater to those needs. You can bring beds, food, toys, and whatever you like or you don't have to bring anything. We feed FROMM Family Foods, one of the best dog foods on the market today. You may purchase extra playtimes, story times and/or doggie daycare for your pup while boarding. Please see the "Extra Services" section for those added benefits. We have been in business since 2005 and are grateful for so many loyal, repeat customers. Thank you for your interest in Riverside Kennel.
Super Small Rooms – $25 – 2 x 2.5 – rooms are too small for two dogs unless the dogs are really small (under 5 lbs each) and/or elderly and non active. These rooms are cozy for tiny and/or elderly dogs only.
Small Rooms – $27 ( $22 each additional dog 2 dogs $49, 3 dogs $71) – 2.5 x 4 and 2.5 x 3 – these rooms are for small dogs and there is room for two small dogs.
Medium Rooms – $32.00 ($20 each additional dog, 2 dogs $52, 3 dogs $72) – 5×3 and 5×4 – nice size rooms for medium to large sized dogs. There is enough multiple dogs depending on the size of the dogs & their activity level.
Super Medium Rooms – $36 ($24 each additional dog, 2 dogs $60, 3 dogs $84) – 5.5 x 6 – nice, spacious rooms for two large dogs and multiple smaller dogs or a family of one large dog and multiple smaller ones. As always it depends on activity level, age and there cannot be any arguments between the dogs or they will be separated into individual rooms. These rooms are also great for a large dog that needs room to walk around.
Large Rooms – $38 ($26 each additional dog, 2 dogs, $64, 3 dogs $90) – 6.5 x 6 – very roomy, lots of space for one high energy dog who likes to jump around in the room and/or comfy for multiple dogs.
Super Large Rooms $42 ($28 each additional dog, 2 dogs $70, 3 dogs $98) – 5×8 – two Great Danes or multiple dog family can fit nicely in these rooms, they are very roomy and spacious.
*All boarding prices will be raised $2.00 during the following times:
•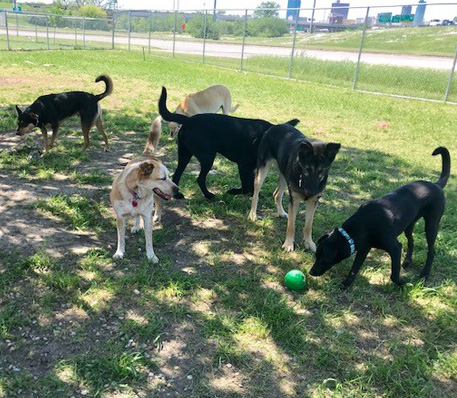 November 15th – 30th
• December 15th – Jan 10th
• March 8th –20th
• May 25th – Sept 6th
Doggie Day Care
$26.00 per day
$124.00 – 5 day pass
$228.00 – 10 day pass
$300.00 – 15 day pass
$378.00 – 20 day pass
$520.00 – 30 day pass
Doggie Daycare is offered Monday thru Friday – $26.00 per day (less if you buy a Doggie Daycare Pass, which is good for one year). Doggie Daycare is offered Monday-Friday 7AM-7PM. If you need weekend Doggie Daycare, talk to us and we will try to accommodate your pup's needs. This service is mostly for pups who are healthy and energetic and need to get out and about, get some exercise and live life.
Dogs are soulful animals and need to run, play and socialize, much like we humans. We cannot express in words the joy we all get from watching dogs have fun, run, play doggies games with their dogs friends and just enjoy life. It's a wonderful thing for your dog. It's a service that has grown for us in the past few years and it's great for the dogs! – We Love Dogs, Dogs Love Us!
Extra Services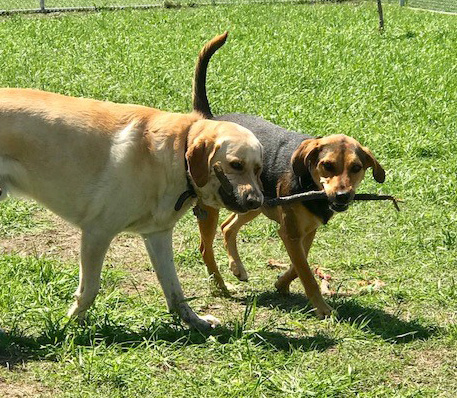 Dayplay – $17 extra per day.
This is playtime with the Doggie Daycare dogs which entails about 4-6 hours of playtime. If your dog is a young puppy and needs lots of exercise and/or socialization or a social adult dog with lots of energy, this extra service is for you. Getting the energy out makes for a much more enjoyable boarding experience. You can choose as many as you like, every day, every other day, every third day, etc.
Extra Playtime – $8 each
These are extra times spent playing and getting some energy out. It's much like Daycare, but a much shorter period of time. These last about 30-45 minutes. If you have an energetic adult/older dog or very young puppy, this one is probably for you. You can choose as many as you like: every day, every other day, every third day, etc.
Story Times – $8 each
These are extra one on one times with timid or frightened dogs. If your dog has never boarded or is very timid and reserved, this is a good way to make sure extra time is spent with staff to make sure the pup understands that she/e is in a safe clean, loving place and everything is going to be OK. You can buy as many as you like, one, two, every day, every other day, etc.
Chew Bones, Nylabones, Treats and the Like
We have many different options in our lobby retail section for buying toys, chew bones, antlers, treats for your pups while boarding. We attempt to offer only items from the USA and nothing from China. If you will tell us what you would like and how much you'd like to spend, we can make sure your pup gets something extra while boarding.
For The Dogs…
Comfy, off the floor dog beds
Blanket if desired, especially at bedtime
Music 24/7
Play yards that are really USED!
4-5 guaranteed potty breaks per day
Enclosures sized for all breeds
Required Vaccinations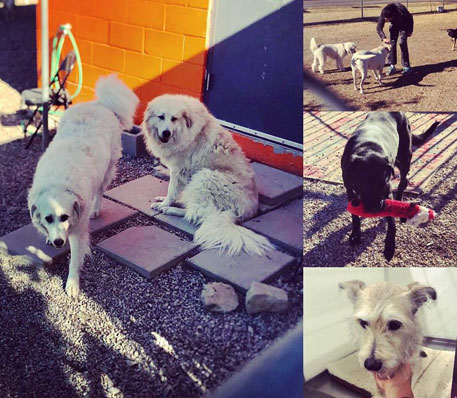 Rabies – every three years for dogs over 2 years old
Distemper-Parvo – every five years for dogs over 3 years old
Bordetella – every six months for all dogs
Vaccine records can be emailed to riversidekennel@gmail.com or faxed to 817-850-9663.
Cancellation Policy
Reservations for non-holidays have a 3 day cancellation policy, meaning you have to cancel 3 or more days before the start date of the reservation. Deposit is one night's stay.*
Reservations for all holidays and Spring Break have ten day cancellation policy, meaning you must cancel ten days or more before the start date of the reservation. Deposit is $250.*
*Deposit will be forfeited if you cancel a boarding reservation outside of these policies.
Check in is 10am. If you choose to check in before 10am, there is $15 charge per room for early check in.
Check out is 1pm. If you choose to check out after 1pm there is a $15 charge per room, if you choose to check out after 4pm, there is a $25 charge per room for late check out.
Our Hours
Mon.-Fri. 7:00am – 7:00pm
Sat. 9:00am – 3:00pm
Sun. 2:00pm-6:00pm
Food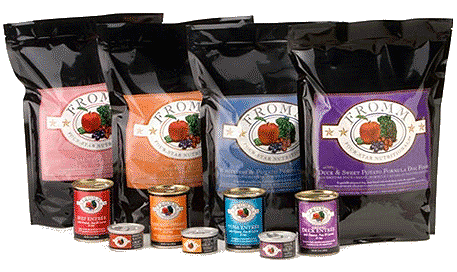 We proudly serve Fromm Family Dog Food here at Riverside Kennel – The Fromm, Adult Gold, to be specific. Very few dogs have any problems with this high grade, well made dry food. Fromm Family Food is made in the USA, contains no corn, soy or bad grains and is rated as one of the best dog foods on the market. We also sell Fromm Family Dog & Cat food in our lobby.
If you would like your companion to stay on her/his regular diet, we are happy to serve what you bring. There is no price difference whether you use our food or your food.
"I want to sing your praises! "

I had planned to board Tank with you guys over Christmas, but waited too long to make a reservation, and you were already booked. (I won't make that mistake again!) I ended up boarding him elsewhere this past week, and just picked him up yesterday. I don't know what kind of experience he had at this other kennel, but it pales in comparison to you. He's skin and bones, dead tired, and clinging to my side like I'm going to leave him again. I feel terrible!

I've completely underestimated the care you guys provide when I can't, and I want to thank you for all that you do! He's excited to see me when I pick him up from Riverside, but he's not dying to go home like he was this time, and that makes a world of difference.

We'll be back to see you in a few weeks, but I didn't want to wait to express my gratitude for all that you do. Thank you so much!

– 12/2017