We are Fort Worth's Best Choice for Dog Boarding
Suzette and Friends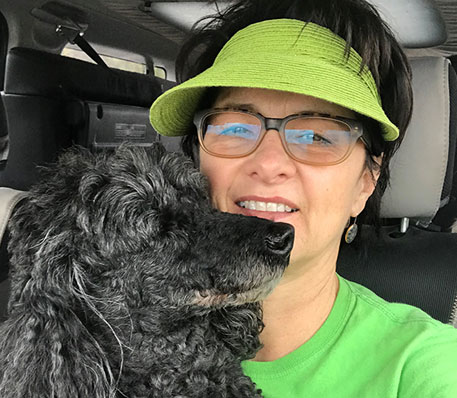 I took a chance of leaving corporate America to start my own business because; first of all, I knew I could succeed and secondly, I wanted to be my own boss. When I found the property in East Fort Worth, people told me, "Oh Suzette, that's a bad neighborhood, you can't make it there." Well, we opened our doors in November of 2005 and we are still here! I knew in my heart that people would come from everywhere and anywhere IF you take good care of their beloved dogs. My theory has proven to be true.
Riverside Kennel is a dream come true for me and my dogs. Before opening Riverside Kennel, I had three poodles: Maverick, Leon & Champ. They were my inspiration. I have since lost Maverick and Leon, but still have Champ and six other dogs that I have rescued from the streets of Fort Worth. I was/am a fanatic about where my dogs are boarded and I was acutely aware of the need in Fort Worth for a facility that knows how to pamper dogs and cater to their owners. I believe that very few boarding facilities do a good job boarding dogs and that includes Veterinarian clinics. Not many, if any, get the dogs out of their rooms more than twice a day which is not enough! Getting the dogs outside for potty breaks and exercise is the key to having stress free dogs in the kennel. Dogs know something is up by the routine change at home even before they leave the house to be boarded. Even if it's a regular boarder, they start getting excited/anxious way before arriving at the kennel. Therefore, it is important that they get outside upon arrival and out of their rooms 4-5 times per day while boarding, this is included in standard boarding rates as it should be at any and all boarding facilities. We offer extra playtimes and doggie daycare for dogs that are young, energetic and social. Sure, we are in business to make a profit, however, not at the expense of any dog's well being and/or comfort while here at Riverside Kennel.
It's a lot of laborious work and it's hard to find good, hard working, trustworthy employees willing and able to do the work and precisely follow directions. Few have the necessary personality to be the pack leader with dogs, which is required. Payroll taxes nearly kill the business which is why I will be raising our prices in 2018. Payroll taxes are a penalty tax on employers for providing jobs. They nearly kill my business every month. I hate them and believe they should be outlawed! Sure, there are some rewards for owning your own business, however; there are just as many headaches such as taxes and employees who come here for a paycheck and no work. For every 20 people I hire, only about 3-5 are worth keeping, simply because the work ethic in the young kids today is nearly non-existent, which makes running a kennel very difficult.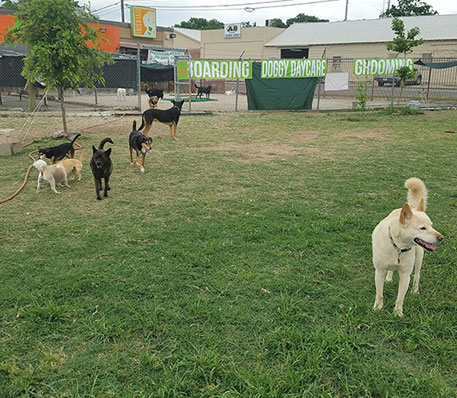 I have been able to find some college students who help me out during our busiest times and have worked here for a year or two during those times. Others who have passed through and contributed much to growing this small business and the success of Riverside Kennel are Juanita, Holly, Miriam, Bailey, Ashley and Kendel and a few great Groomers come and go. I am very particular about who can work here because this job requires such a high level of trust and dependability. I have been lucky to find women down on their luck who have made some poor choices in their life and are ready to start a new one. Those particular women seem to do well here. I run the kennel much like probably the military runs their training. I am no nonsense and have high standards and policies to uphold those standards. Employees that can respect it, do well – – those that don't, leave. We are dealing with your beloved four legged children, it's a serious business and I don't like having to answer for mistakes to my customers.
Thank you for your interest in Riverside Kennel. We feel we're the best dog boarding facility in Fort Worth. Our location is in an ugly part of the city and our building is not made of marble, but we are the best at boarding dogs. Rarely is there a stressed out dog here.
For the love of dogs,
– Suzette
Chant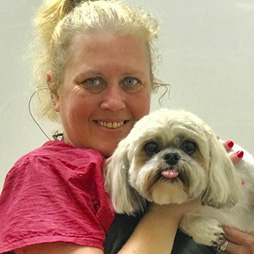 Chant is a Master Groomer. She can groom any breed dog. She has been in the business of making dogs look beautiful for more than twenty years. She moved to Fort Worth from Florida after the hurricanes of 2017. She is very talented and we are thankful to have her as part of the team here at Riverside Kennel.
Chandra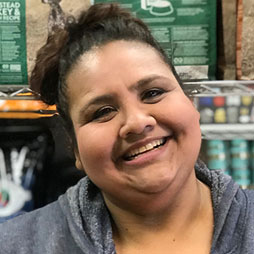 Chandra had been a Manager for Wendy's fast food restaurant for years before deciding she wanted to try something different. She loves dogs so she came to us. Chandra supervises Doggie Daycare and helps as a Kennel Tech on the weekends. She is a take charge team player loves customer service and we are thrilled to have Chandra here with us. When not working, Chandra is taking care of her three dogs and young children.
Ashley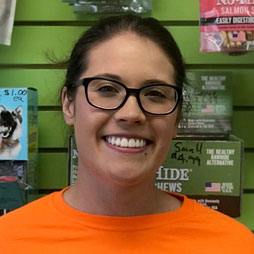 Ashley came to us through word of mouth. Ashley has a degree in Criminal Justice but decided she wanted something different. She loves dogs so she came to us. Ashley is very detailed minded and is working full time as Kennel Tech while going to nursing school at UTA. We are thrilled to have Ashley here keeping things in order for us all. When Ashley is not working she is taking care of her two dogs.
Bailey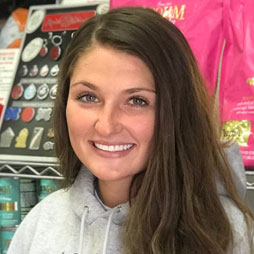 Bailey was referred to us by her parents who do our screen printing for our work shirts. She's worked for us through summer and holiday breaks from college and is now working full time until she decides if she wants to go to Veterinarian School. Bailey has been a huge help during some of the most trying busy times. When Bailey is not working here, she's working for her family's business and taking care of her Australian Shepherd.
"Y'all have been a lifesaver for me and Bruno!"

When I started working again, I didn't know what I was going to do with him during the day. I didn't want to leave him in a kennel all day. He looks forward to his doggy daycare. When I'm done getting ready in the morning, I find him sitting patiently by the door. – J. Gonzales